Post by Shake-n-Go on Jun 10, 2014 13:17:24 GMT -5
Hi everyone,
Ok, so I was really excited when I came across this section. I've been keeping personal charts for a while now and I love that so many others do too. I really like the whole Pulse 100 thing too - fun idea! I wasn't sure if I was supposed to post in that specifically or just have a new thread so I'm just putting this out there and you all can tell me if I'm doing this wrong.
I've kept a Dance chart for about 10 years, an Alternative chart (trying to stick to format terms) for about 10 years on and off, a Hot AC chart for 5-6 years and a Spanish chart for about 12 years on and off. In that time though, I had never kept a combined chart, if you will, until I joined this board. I've been doing it for the last few months but haven't kept on top of it. At the moment, my most updated is the Dance chart so I'm going to go ahead and post that below. I'd like to continually post my Dance chart and my Combined Chart (Top 50) once that gets updated. I think if I tried to post all my charts it would be overwhelming for everyone involved haha - I doubt I could be efficient enough to keep them all 100% up to date.
So, yeah, I just thought I would give this a shot and it may not work out but here goes nothing. I somehow have always ended up with a Top 41-44 hah. Its just always worked out that way. Also, as far as points, I base my charts on the points I attribute to them. I guess it sort of resembles spins per week. My max point number is around 80 so a typical #1 would have anywhere from 75-85 points. Not that I could ever listen to any one song 80 times a week but its just something that's stuck. Songs that chart must earn a minimum of 20 points. A song that falls below 20 points will fall off the chart. If that song earns 20+ points again then it can chart again. Though I find that if I did rank a song below 20 points then I probably just don't want to hear it much anymore. I don't have many re-entries. This only applies to any song that hasn't charted for more than 20 weeks. If a song that has been on for more than 20 weeks falls below 20 points then it is no longer eligible to return. I suppose I could say that song goes recurrent.
Well anyway, I think that's it. Below is the Dance Chart. I hope to get caught up on my Combined and that post may follow later today. Oh, also I'm really sorry for the quality of the image. I sort of just took a screen shot. I have to figure out a better way to translate it onto here - if anyone has any tips I'd appreciate them.
Thanks all!
Albie's Dance Chart Week Ending 6.6.14

Legend: TW = Position This Week |
LW = Position Last Week
| WOC = Weeks on Chart |
Peak = Peak Position with Weeks at #1
| +/- = Change in Points


Debuts are marked by a ' - ' in the LW column. Re-entries are marked by an ' RE ' in the LW column.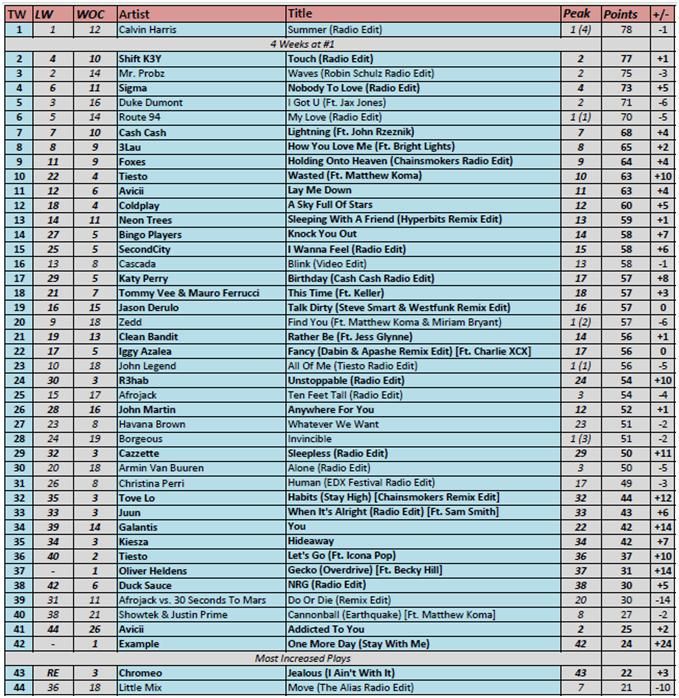 Debuts/Re-entries:

Oliver Heldens - Gecko (Overdrive)
Example - One More Day (Stay With Me)
Chromeo - Jealous (I Ain't With It)
Droppers:

Naughty Boy - La La La (Ft. Sam Smith) | Peak: 20 | WOC: 11
Cole Plante w/Myon & Shane 54 - If I Fall | Peak: 24 | WOC: 13
Tiesto - Red Lights | Peak: 1 (5) | WOC: 24
This Week in 2013:

#1: Armin Van Buuren - This Is What It Feels Like
Debuts:

Labrinth - Beneath Your Beautiful (Seamus Haji Radio) [Ft. Emeli Sande]
John De Sohn - Under The Sun (Where We Belong) [Radio Edit]
Clokx - It's A Real Love (Radio Edit)
Droppers:

Litte Mix - Wings (The Alias Radio Edit)
Infernal - Can't Go Back
Olly Murs - Troublemaker (Cutmore Radio Edit) [Ft. Flo Rida]