Post by Libra on Mar 28, 2015 19:01:26 GMT -5
I warned you last week that this was coming...
Strap yourselves in for some real chart madness this week! We see not one but two chart records broken, another chart feat accomplished with help from a record-breaker, and another chart best set for my chart's Top 40 era.
Oh and here's something else interesting. Last week, there was but one song whose artist credits were entirely male in the entire Top 10 (Top 13, even) - and it just so happened to be the #1 song. One of those is no longer true this week.

Sean
:

@drag27: Kacey up six.
Albie
: So are Ex Cops.
Zeebz
: Two of your Top 10 debut.
Daryl the Beryl
: Ellie up two.
Mikey
: Years & Years up seven.
Flip
: While Ariana is the week's Biggest Mover.
Mike's Top 40
For the Week Ending: March 28, 2015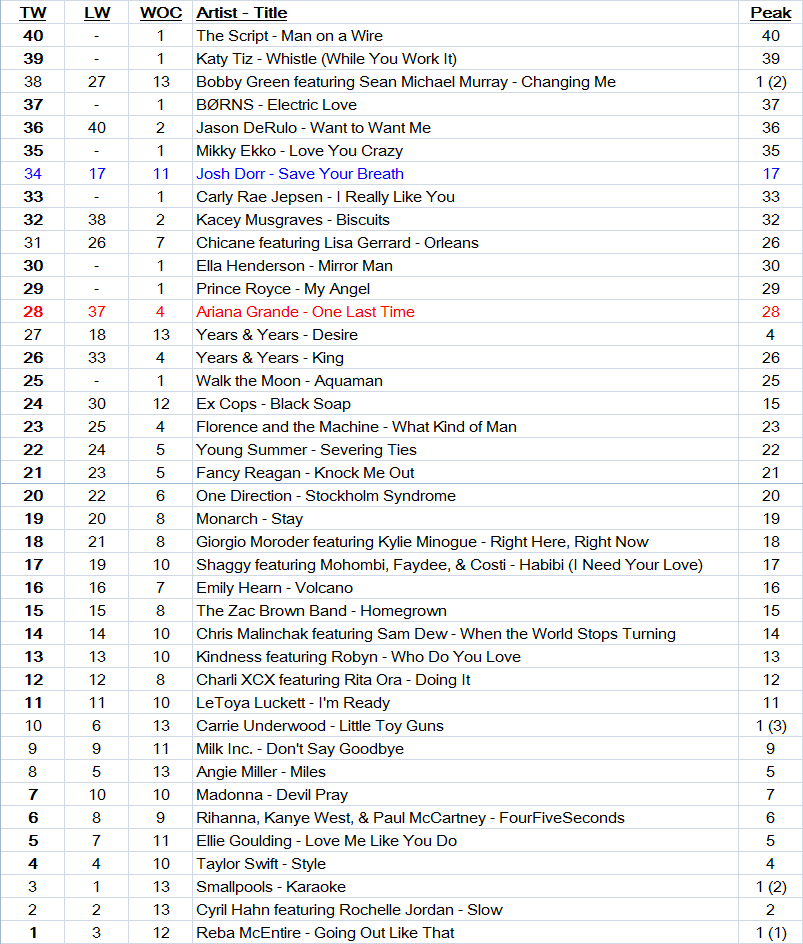 DROPPERS:
Neon Trees - First Things First (from 39)
Alex Winston - Careless (from 36)
The Bright Light Social Hour - Infinite Cities (from 35)
Tim McGraw featuring Catherine Dunn - Diamond Rings and Old Barstools (from 34)
Trijnjte Oosterhuis - Walk Along (from 32)
Avril Lavigne - Give You What You Like (from 31)
Blonde featuring Melissa Steel - I Loved You (from 29)
Ed Sheeran - Thinking Out Loud (from 28)
OK, if you've been paying attention in the Pop forum as of late, you've probably noticed me raving about the broad musical lineage that the Pop chart has seen as of late. That's right, I'm referring to the chart featuring artists in their teens, 20s, 30s, 40s, 50s, 60s, and 70s all at once.
Well, this week it's my turn.
Teens: The debuting Ella Henderson, who's 19.
20s: Way too many to name
30s: Also many
40s: Chicane (44), Shaggy (47), Kylie Minogue (46). Would also have included Tim McGraw, had he not fallen off.
50s: Madonna (56)
70s: Paul McCartney (72), Giorgio Moroder (74)
Notice how I skipped 60s? Well, I saved that one as a segue into our next big chart story. You see, it features an artist who's not only a part of this musical chain, but also sets a new chart record all by themselves this week.
The oldest artist ever to hit #1 on my chart has long been Carlos Santana, who took "The Game of Love" to the top for two weeks in December 2002. He was 55 when he did that. (As an aside, my first thought when checking this was possibly Terri Nunn of Berlin, with "Animal" having gone to the top last year - but, Terri's 53.) This week, that record has been broken by the woman who today turns the big 6-0 - of course, Reba McEntire!
Now, given the presence of Paul and Giorgio, we'll see if she holds that record for very long (especially prudent given that "FourFiveSeconds" moves up to #6 this week). But, in the meantime, what a way to make chart history, eh?
Oh, and I still have one more new chart record to talk about! That record also intertwines itself with the musical generation chain this week, thanks to the debuting Ella Henderson. She's one of a new record eight debuts this week. The #25 bow for "Aquaman" is also now the highest debut since I expanded to a Top 40 about a year and a half ago. Actually, the previous best was the #31 entry for Ciara's "Overdose", which "Aquaman", Ella, and Prince Royce's "My Angel" all beat this week.
Incidentally, the 17-notch plunge for Josh Dorr this week is
not
a new chart record; back on October 12, 2013, Maroon 5 plummeted from 22 to 40 - 18 notches - with "Love Somebody".
Though there has been much to celebrate this week, not everything is rosy here in these parts. Just ask the Top 20. 16-11 all hold position this week. (Look familiar? 18-13 did that two months ago, back on January 24.) From the looks of things, not much relief is in sight for a few weeks - Carrie and Angie are beginning to slide, and Milk Inc. look to be peaking, but otherwise many of these up-and-comers may just have to wait it out to get their shots at the upper echelon.
And...that should do it for this week's chart talk.
NEW PICKS OF THE WEEK:
Allertz - Don't You Get It
Brandon Flowers - Can't Deny My Love
Jukebox the Ghost - Postcard
Sultan + Shepard featuring Tegan & Sara - Make Things Right
Zonderling - Telraam
Until next week...

-Mike