Post by Albie on Apr 16, 2020 3:31:33 GMT -5
Hello and welcome to
Tiger King Mafia
!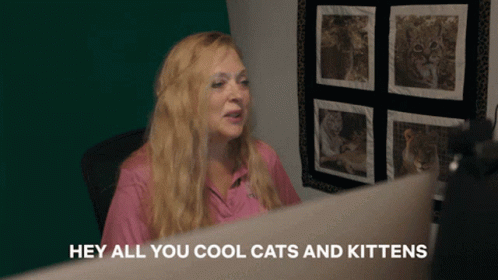 The year is 2020. The world has recently been introduced to Joe Exotic. But the president of his fan club, who also happens to the President of the United States, has just issued a presidential pardon. Joe Exotic is a free man! He returns to his beloved Wynnewood, OK to live with his adoring fifth husband, Dillon Passage. No sooner is he out of jail, than he hears that fellow tiger enthusiast and keeper Bhagavan "Doc" Antle has been murdered. That's right! That bitch Carole Baskin strikes again! Rather than hiring a hit man, or you know, going to the cops, Joe decides to take matters into his own hands. This time, he's going to catch that bitch Carole Baskin and her now-associate, the traitor, Jeff Lowe.

Bhagavan "Doc" Antle
,
TIGERS Zoo Owner
, has been found dead at the gates of the GW Zoo.
Britney Spears
,
Tiger Enthusiast and All-Around Beautiful Human
, is sad.
---
Rules:
1. Please enjoy this game and do not act in a manner that would make the game unenjoyable for others. This includes personal attacks, passive aggression, or any other improper behavior. Common courtesy is expected, and required, of all players.
2. The Game Moderator is
Albie
. All official information and rulings will come directly from the Game Moderator. Please send all private messages, including Night Actions, to me.
3. Your ability to follow [or ability to contact the Moderator for clarification of] the rules and any instructions in your role PM serves as your confirmation for this game.
4. If you are allowed to communicate with another player outside of this thread, then please follow the communication instructions within your role PM. If there are no specific communication instructions within your role PM then you are unable to communicate with any other person about this game with exception of the Moderator. This includes anyone you believe to be a non-player and anyone you believe to be dead and/or removed/replaced from the game. This applies until the game concludes.
5. Do not quote role PMs or any other form of communication with the Moderator unless your role PM explicitly states you can (in which case follow the instructions in your role PM). You may paraphrase your role PM as you see fit, but keep everything in your own words!
You may directly post or link to the image that is contained within your role PM, although you may not include the image in a quote box. This exception applies ONLY to the image, and you may not post or quote any other part of your role PM or any other form of communication with the Moderator.
6. Editing/deleting your posts is not allowed, and multi-posting is encouraged instead.
7. All votes must follow the format of
Vote: [player]
and be easily noticeable. Typos, errors in the format, and odd placement will be counted at the Moderator's discretion. All official Vote Counts will serve as the answer to whether or not something is counted.
8. You are not required to unvote. However, if you do, then please use the format of
Unvote: [player]
. The same rules for counting unvotes apply as per votes outlined in Rule #7.
9. Self-voting is allowed.
10. No Lynch is a valid vote target.
11. A lynch will occur when a majority of votes has been reached OR if a player was the first to reach majority vote at the end of the day phase. If a majority has not been reached at deadline, then no one will be lynched.
12. Deadline for the Day Phase will equal a time of approximately 96 hours on Day 1, and 72 hours on each Day thereafter. Deadline for the Night Phase will always equal a time of approximately 24 hours.
13. During any Day phase a player may perform the command
Request: Deadline Extension
. The deadline will be extended by 24 hours if a majority of players perform this command. This can only be done once over the course of the game. It is expected players will be aware of all deadlines [regardless of placement or frequency of posting] and will accommodate and be prepared for any such interference.
14. Twilight Phase may occur between Day Phase and Night Phase for a variable period. All living players, including any lynch targets, will be allowed to communicate in-thread until a Night start scene is posted. You cannot post during the Night Phase unless otherwise stated in your Role PM.
15. After your death and/or removal/replacement from the game you are not allowed to post in the game thread until the game has concluded unless your role PM explicitly states such. You also may no longer like any posts in the thread. Non-players are also discouraged from liking posts if they have access to the Green Room. Any posts by non-players, dead players, removed players, etc. may be deleted by the Game Moderator.
16. You are expected to maintain a healthy level of activity in this game. If you have a pre-planned absence, then please notify the Game Moderator ahead of time and you will not be prodded. However, if your absence is for an unreasonable amount of time, you may be forcibly replaced regardless of advance notification. You will receive a prod every 36-48 hour period you do not post without note of Vacation/Limited Access (V/LA) within the game thread. V/LA declared outside the game thread or privately to a Moderator may or may not be honored at the Moderator's discretion. If you do not acknowledge your prod and post in thread within 24 hours, you may be replaced or modkilled at the Moderator's discretion.
17. Failure to adhere to rules will result in replacement or modkill based on the Moderator's discretion.
18. You may ask questions to the Moderator using the command:
@mod: ___
. The Moderator will answer questions with the command:
#Mod: ___
.
19. Posting in code (such as javascript, binary, etc.), hidden text (this does not include spoiler tags or collapse tags), or languages other than English will result in a warning.
20. You may not post screenshots, print screens, or anything resembling a screenshot or print screen.
21. You may not quote logs of communication with other players if your role PM allows you to communicate with other players outside of this thread. However, you are free to paraphrase.
22. If you have an issue with any of these rules you may privately appeal for a rule's removal via PM with the Moderator.
23. You may privately notify the Moderator via PM if you feel another player has violated any rule.
24. Modkills during the Day Phase end said phase, skipping the Twilight Phase. It is important to note that if you are modkilled for a reason that could not have been resolved via forced replacement, your win condition will be changed to that of survival upon the modkill.
26. Non-players and dead players may request access to the Green Room Quicktopic to discuss the game amongst one another via PM to the Moderator.
27. That bitch Carole Baskin.
Game Moderator:
Albie
---

List of Players:
1.
nick64
2.
Koochie
3.
Rose Wintur
4.
taylor
5.
Mylo13 💜
6.
Lukas
7.
gabe
8.
|Coco |
9.
Zeebz
This is an Open set-up and follows "Rows and Columns (Column B)" as outlined below:
5x
Zookeepers (Vanilla Townies)
1x
Zoo Owner Joe Exotic (Odd-Night Bulletproof Townie)
1x
Investigative Filmmaker Rick Kirkham (Town Cop)
1x
That Bitch Carole Baskin (Mafia Role Cop)
1x
Traitorous Jeff Lowe (Mafia Goon)
I confirm that this game will use Natural Action Resolution.
I confirm that all flavors are assigned to roles non-randomly and all players are assigned to roles randomly.
I confirm that all information relayed from the Moderator, either in private or in public, is strictly accurate, although possibly incomplete.
I confirm that the
Town
faction belongs to the
GW Zoo
. I confirm that the
Mafia
faction uses the name
Cool Cats and Kittens
. I confirm that this faction gets safe-claim Role PMs.
I confirm this game is Normal and non-Bastard.