Post by Lux ◢ ◤ on Sept 2, 2018 16:16:27 GMT -5
Hey everyone! I'm excited to be hosting here... I don't know how much interest there is, so I've yet to make the setup. Also my first time hosting here, so excuse me if things are out of the ordinary compared to what's hosted me before... Didn't get many likes on the post asking, but it seems that at least 3 are interested, so we'll see how things go. I host a lot of Mafia on a different site, and make setups on the weekly so that should be fine!
__________________________________________________________________________________________
SKULL ISLAND MAFIA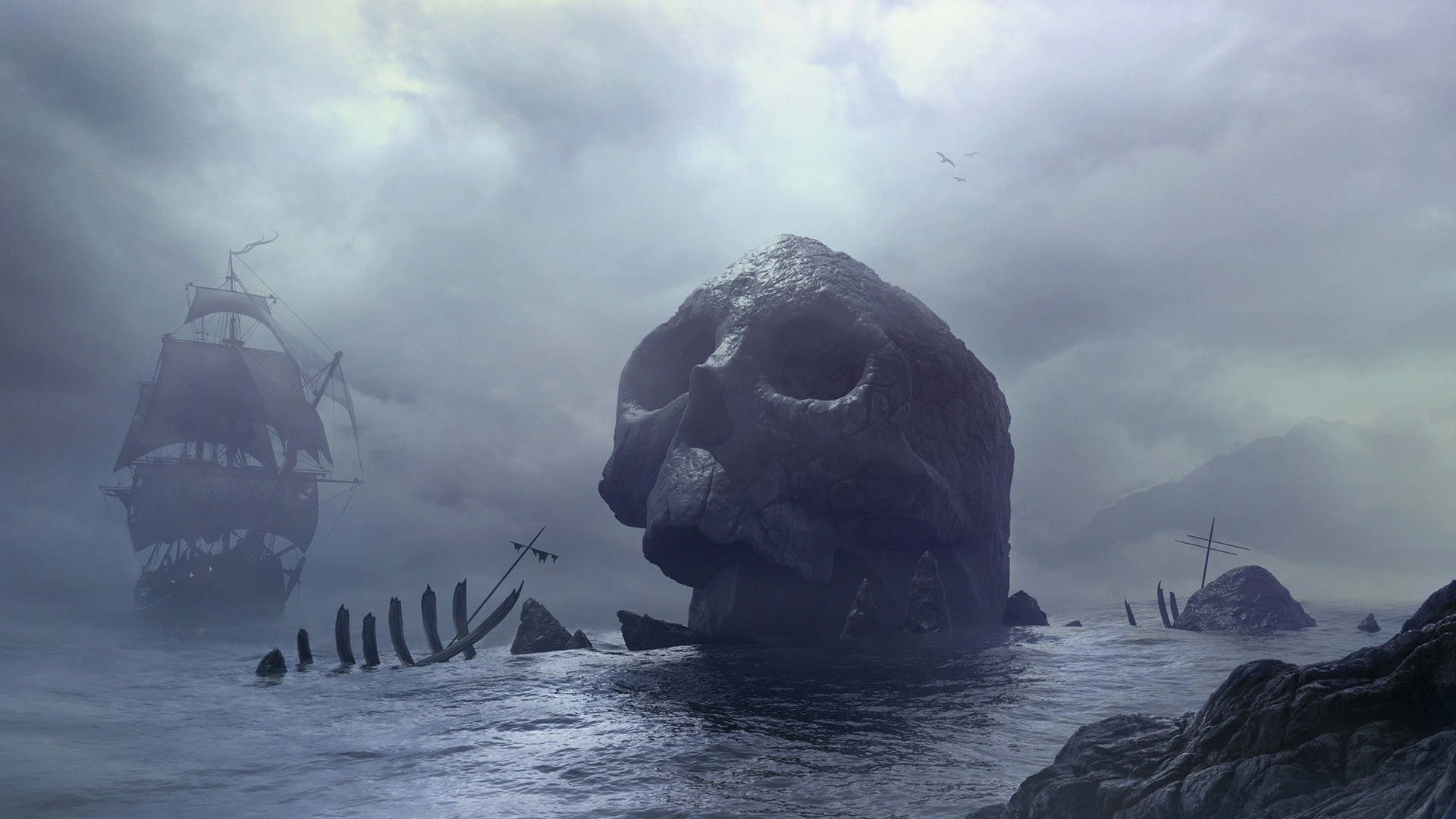 Welcome to
Skull Island
, participants. This is a new real-life TV Show, where a group of celebrities are put on a desolate island in treacherous seas. Branded as a group of "pirates" who got stranded after they wrecked their ship, they roam the island. Their only goal is to try to survive on an island like that as long as possible, before their private jets take them back to their Malibu villas...
At least, that's what they were made to believe. In reality, this is a much more cynical experience. The director of the series has been planning this experiment for a long time. He has little to none of the cast on the island, and has hired a group of assassins to kill the celebrities one by one... The TV series will not show how they're trying to set up a fire... they'll show them cooked over the campfire themselves!
This becomes first apparent, as the supposed host of the series, suddenly died one night. Instead of chaos, the Islanders turn to logic. They decide to find out who the killer was themselves... democratically!
And that's all for tonight folks! Hope to see you next week, same channel, same time!
__________________________________________________________________________________________
Please post
In
in the thread if you want to sign up. For now there's an unlimited amount of spots. I'll probably close signups next weekend, create the setup, send roles, and hopefully start soon after.
Players (7):
- @pjscott11 (pjscott11)
- @antigonerising (antigonerising)
- @doinktheclown (doinktheclown)
-

wob

(wob)
-

Mylo13 💜

(myloninja13)
-

Devil Marlena Nylund

(themaxonline)
- @touch (touch)

Substitutes (2):
- @pma2015
__________________________________________________________________________________________
Rules
This game will use definite plurality. This means that it doesn't matter whether a player has the majority of votes on them. Only at the deadline, the player with the most votes on them will be eliminated.
If there's a tie at the end of the day, the person who had more votes first will be eliminated. So if votes go 3 for A, 2 for B, to 3 for A, 3 for B, then A will be eliminated. If it went 3 for A, 4 for B to 3 for A, 3 for B, then B would be eliminated.
No extensions will occur.
The setup will be a closed setup. This means that there's no general rolelist, and you will only know your own role. All of your roles functions will be explained in your role PM. There will be no roles that have parts hidden from the player.
You will not be able to talk to other players in the game, about the game, outside of the thread or any other dedicated channels for discussing the game. (Think a Mafia group PM).
You may vote for someone by saying VOTE @user in bold. It must be bolded, or it will not be counted. Please color code it if you feel the need to make an entire post bold. It needs to stand out.
Do not edit your posts, ever.
It seems like you guys are used to 48 hour days, 24 hours nights, so I will keep that schedule. Will make it nicely fast-paced. I will try to update at least 2 times every real-life day.
Do not try to circumvent the rules. I reserve the right to modkill you if necessary.
Do not play against your win-condition. It will be outlined in your role PM what this is.
Activity & Behavior
This game will use a 3-strike system. If you don't post 5 times during one in-game day, or send an action at Night when you are supposed to, will give you a strike. Making personal attacks or other excessive, toxic behavior can also obtain you a strike. If you reach 3-strikes, you will either be killed or subbed out (if the possibility is there).
If you need to leave the game for any reason, notify me. I will try to find a substitute. The substitute will be able to see your PM with the host, where you can leave any information you want before you leave.
__________________________________________________________________________________________
General Rules
<iframe width="21.82000000000005" height="12.700000000000045" style="position: absolute; width: 21.82000000000005px; height: 12.700000000000045px; z-index: -9999; border-style: none;left: 5px; top: 175px;" id="MoatPxIOPT0_20847044" scrolling="no"></iframe>
<iframe width="21.82000000000005" height="12.700000000000045" style="position: absolute; width: 21.82px; height: 12.7px; z-index: -9999; border-style: none; left: 1023px; top: 175px;" id="MoatPxIOPT0_72904359" scrolling="no"></iframe>
<iframe width="21.82000000000005" height="12.700000000000045" style="position: absolute; width: 21.82px; height: 12.7px; z-index: -9999; border-style: none; left: 5px; top: 747px;" id="MoatPxIOPT0_49379891" scrolling="no"></iframe>
<iframe width="21.82000000000005" height="12.700000000000045" style="position: absolute; width: 21.82px; height: 12.7px; z-index: -9999; border-style: none; left: 1023px; top: 747px;" id="MoatPxIOPT0_12742765" scrolling="no"></iframe>
How to understand math & mafia:
You flip a coin (that is guaranteed to be heads 50% of the time and tails 50% based on chance alone) and it comes up either heads or tails.
This result had a 50% chance of happening.
This result had a 50% chance of happening.
Flip 1: Heads, Flip 2: Heads
This result had a 25% chance of happening.
Flip 1: Heads, Flip 2: Tails
This result had a 25% chance of happening.
Flip 1: Heads, Flip 2: Heads, Flip 3: Heads, Flip 4: Heads, Flip 5: Heads, Flip 6: Heads, Flip 7: Heads, Flip 8: Heads
This result has a ~.4% chance of happening. This is EXTREMELY unlikely to ever occur.
Flip 1: Heads, Flip 2: Heads, Flip 3: Heads, Flip 4: Heads, Flip 5: Heads, Flip 6: Heads, Flip 7: Heads, Flip 8: Tails
This result has a ~.4% chance of happening. This is EXTREMELY unlikely to ever occur.
Flip 1: Heads, Flip 2: Tails, Flip 3: Heads, Flip 4: Heads, Flip 5: Tails, Flip 6: Heads, Flip 7: Heads, Flip 8: Tails
This result has a ~.4% chance of happening. This is EXTREMELY unlikely to ever occur.
Flip 1: Heads, Flip 2: Tails, Flip 3: Heads, Flip 4: Tails, Flip 5: Heads, Flip 6: Tails, Flip 7: Heads, Flip 8: Tails
This result has a ~.4% chance of happening. This is EXTREMELY unlikely to ever occur.
Notice the pattern here? It's not that the results of flip 1 through 7 make the 8th flip any crazier. It's that as you continue to flip the coin, you create a sequence of events that is unlikely and hard to duplicate at will; but that sequence of events is JUST AS unlikely and hard to duplicate as all other combinations you could have gotten.
When you factor in a game such as mafia, where your chances of getting town is normally 70+%, using the roles players have had in previous games to attempt to determine their role in the current game is no better than just randomly throwing a dart and hoping for the best. You may indeed be right! But it's only because your random vote happened to correspond with the random generator this go around. Not to mention, the fact that the % of getting a non-town role varies in each game, and the fact that the player lists vary in each game, it's nothing more than a shot in the dark to chase probability.
I hope this helps players learn to play the game as this is a roadblock many seem to get stuck on!
How to successfully begin the game with no information:
When you begin a game of mafia, you are beginning in the dark. Yes, some roles may have information that others don't, but this is never to be depended upon and won't happen too often. The biggest issue is getting a feel for other players. What is the best way to get a feel for a player? The best way is to force that player to make a stance. On something, anything related to the game. Why is it important to get someone to take a stance? Because it provides something you can look back at and judge their consistency in their stances as the game progresses. The easiest stance for anyone to take, is of course their vote. A vote is something that is concrete in the game. Remember: when you accuse someone of being non-town and push for their lynch, they will ALWAYS have a response and defense. It is your goal to determine if that response and defense is convincing. The thing about voting is, that that is something that CANNOT be twisted by words. Someone can say something and explain whatever their motive was behind it true or false; same with their vote. What a vote provides though, is something that cannot be argued against. "X voted Y." Once the vote is cast, even if changes, the fact is it is something that happened that words can never change the reality of it. It allows for this: "X voted Y as the first vote in the game. X unvoted Y when Y had a couple votes on during Day 1. On Day 2 Y eventually ended up getting lynched, with X as the hammer vote. Y flipped mafia." It provides a sequence of interactions between the two players that can be researched and analyzed. Was X's RVS vote on Y an early attempt to push them apart? Did X unvote Y once a wagon had started in hopes that it would deflate and a mislynch would occur? Did X hammer Y when the lynch appeared inevitable to attempt and look more town by hammering a mafia? These are all things that need to be judged and analyzed, and you can determine the answers to these questions based on what X commented on at the time about Y and what commented on about X and so on and so far. What voting does is leave a paper trail for you to follow and analyze the events surrounding these votes. That is why it is important to urge/pressure all players to vote at the beginning of the game during RVS. Simply allowing a player to never vote, and only pop in with a non-informational post every now and then provides no stances. It provides a non-entity. It essentially allows a player to remove themselves from the game and remain an unknown. If a player is not voting or adding anything; pressure them to vote. If they only appear once every other day to avoid their prod, leave them a question to answer for when they return. Make sure that that question forces them to take a stance, on something about the actual game. If you cannot draw all players into the game, your chances of losing increase.
How to avoid being useless as town (or as a player in general):
If you never vote or comment on anything pertaining to the game that leads to you having a stance; then you are being useless. If others cannot read you or your stances, then others have no reason to keep you alive. You are simply an unknown. The overall balance of mafia allows for town to miss a few times without losing outright. If town determines on the first day that you are playing in a manner where you will always be an unknown; then it is beneficial to the town to remove you from the game to force a better player field for when the chance to mislynch and not lose is gone. Luckily it's very easy to not be useless! Simply vote and comment on something, anything. Begin the game with a random vote and never unvote throughout the whole day phase, instead only change your vote as necessary throughout the day. Simply once the game seems to have moved past its initial Random Voting Stage, keep your vote on your highest suspected person at all times. Even if it is the tiniest suspicion, keep your vote there. If your highest suspicion changes; change your vote to the new highest suspicion. If you keep this up, you will provide a paper trail for all other players to follow. Players will then be able to judge your intent behind your votes and reasoning. In mafia, you WILL be wrong at some point. Being wrong should not be something that prevents you from voicing your suspicions and defending those you believe to be town. If you are wrong, then it is up to other players to judge whether you were wrong because you are mafia or wrong because you are a townie making your best effort. Others will be wrong too. This means other will vote for you at some point, and they of course will be wrong. Simply explain and defend yourself. If someone can't be convinced, then don't let it discourage you. Continue attempting to push for your most suspicious subject and explain why they should be lynched over you. Do not get lost in only defending yourself; remember that your win condition as town is not to survive, it is to get all non-towns lynched. This means that pushing for the lynch of your top suspect should be your highest priority at all times, even if there is pressure on you. Defend yourself to the best of your ability, and continue pushing for who you believe should be lynched. Remember that non-town may be the ones pushing for your lynch, so do not feel discouraged because you are being pressured and voted. Also remember that even if you are mislynched, if you have continued voting and taking stances throughout the game, then you have left a paper trail for others to follow and analyze. The sole outcome of your lynch might only be that it makes one person very townie. That is still very useful as if townies can identify other townies, then process of elimination can be used to narrow the field for suspects. If you are having trouble narrowing down your suspects, instead of scum-hunting, look through the paper trails of living players and go town-hunting. If you can reasonably assume that someone is town, then you have narrowed your search via process of elimination. Also do not be afraid to change your opinion of anyone. One day a player might look like guaranteed town to you, and the next day when you reanalyze things they look like the most villainous mafioso ever. Be open to change your opinion, simply make sure you do so logically and back up your stances logically. If you are non-town, you simply want to approach the game as if you are a townie and come across as genuine as possible. You of course cannot be genuine, because you know the answers of who is not-aligned-with-your-faction (the majority of which will be town) and thus will have the lie about your suspicions. Simply attempt to be as genuine and convincing as possible.
Always use your power role unless you can think of a good reason not to:
The following are good reasons: "This ability is one-shot, thus I should use it when the time is right."
The following are not good reasons: "I am a vigilante and don't want to use my power because if I kill a townie I might look bad!", "I am a doctor and I don't trust anyone enough to protect them!", "I am a cop and I just can't decide to investigate!" "My role has a side effect when I use it which is bad and meant to balance the power of my role!" "I just don't see how my role is useful!"
Your reason is usually bad. Use the tools provided to you to increase your faction's chances of winning.
Grr..why can't I post screenshots & grr why does yadda yadda rule exist?
Because it's not hard for people to
fake
things like a mock-up of a mafia quicktopic or someone's post that they 'deleted'. Essentially, screenshots have been used in gamebreaking ways in the past, and thus banning them outright helps keeps the game fair to all players. This is what most rules exist for, to allow all players to just play the game and have fun. It's not fun if someone is PMing non-players and dead-players secretly and asking for their opinions on who is mafia. It's not fun for people to go back and delete/edit their old posts that might incriminate them as mafia. Etc...
Should we always wait to lynch until the deadline so we have the most information and stances possible? What's wrong with just quicklynching every day?
Both of these are perfectly reasonable; provided you have gotten information out of all players at least once each day phase. That is, before quicklynching, you should always allow for all players to check in and make a vote/stance/relay information they might have gotten in the night phase. You only need to quicklynch when you have very strong suspicion or a slip-up to follow-up on. Similarly, it is perfectly fine to use up all of the allotted time, provided you are actually using it. If you aren't having arguments and having votes going around and people making stances, then waiting for the deadline to come is simply losing your sense of urgency. There should always be a sense of urgency "I have this much time to convince a majority of players that X needs to be lynched. If I wait until the last minute, everyone's votes might be spread out and we won't be able to come to a consensus quick enough and miss our lynch." Discuss as much or as little as necessary, provided you keep aware of the faults of each extreme.
Is No Lynch ever a good option?
No Lynch is a good option in what is called a MYLO situation. MYLO simply means, if you mislynch, you lose. Take for example, you have four players. Let's say you know there are no Independent roles in the set-up and that there is only one mafia. If you have four players, and town hasn't lost, then only one of the remaining players can be mafia (as if there were two or more, then mafia would win). In this situation you are in MYLO. If you mislynch, you lose as lynching a townie and then having a townie nightkilled results in mafia endgaming the remaining townie. This means, from your perspective, you have three votes and a 33% chance of being correct by voting randomly. If you No Lynch in this situation, then a town player will be night killed and the next day will be a LYLO scenario. LYLO simply means, you must lynch correctly or lose. In this LYLO scenario, you now only have two options to vote, meaning your chances of voting a mafia based on random voting is 50%. Thus the odds of lynching the final mafia member has increased. Thus No Lynch during MYLO is good. In addition, Kingsmaker scenarios are ones where it is no longer possible for town to win by lynching. A scenario would be a final three players with one mafia person from one mafia family, and another mafia person from an opposing mafia family along with a single townie. Essentially the townie functions as a Kingsmaker, if he votes one of the mafia players, then the other mafia wins. If he gets lynched, the both mafias would joint-win in this situation by most standard mechanics. A No Lynch allows for the possibility of the mafia killing one another at night and the townie being the only one alive and winning. This will not happen as both of the anti-towns could simply lynch the townie instead of No Lynching and risking a loss. Thus it is purely Kingsmaker and town has likely arrived to this unwinnable situation by incorrectly lynching too many times before. In the previous game, we had a very fun Kingsmaker MYLO situation. The town correctly assumed that the most possible players in the mafia faction could be two. They also correctly assumed that there was an Independent player. Recognising this and doing the math, they could have realised that no lynching offered a more winnable scenario than lynching.
Ugh why was that role so powerful? That was so unfair!
All factions need an equal chance of winning. If there is only a town and a mafia, then the game needs to be balanced such that via random voting town would win 50% of the scenarios and mafia would win 50% of the scenarios; this includes scenarios with night actions affecting things. When you add a Cop to a set-up, you've just added scenarios where the Cop randomly catches a Mafia on Night 1, randomly clears a Townie on Night 1; etc... When you add a Cop and a Roleblocker, you now added more scenarios where the cop can be roleblocked and such. Everytime you at a role, the numbers chance and thus things need to be done to balance it to preserve the equal chance of winning. When you add an Independent, now you've added a single player who deserves an equal chance of winning as every other player; and thus you've added a role that needs a 33% chance of winning all by itself. For a mafia or town faction; a single mafia or a single townie being lynched won't cause their faction to suddenly lose. However one an Independent is lynched; they can no longer win and have lost. This makes Independent roles hard to play and hard to balance, especially if the Independent role does not have a method for killing/removing other players from the game directly. The roles that look the most intimidating or the strongest, normally look that way because at their core they are very difficult to win with and need to be amped up to have a fair shot at winning and not just some impossible role given to someone for kicks to see if they can pull off the impossible.
Really how much do I need to post?
If your posts have votes and stances and good amounts of information of your thoughts and provides you with interactions between other players; then you only need to post within the activity limits. If your posts aren't that exhaustive, then you likely need to be posting more frequently. A informative post once in the morning and an informative post once in the evening is generally plenty for a low-activity player to maintain a healthy presence in the game. Stopping in to say Hi or say something unrelated to the game is simply prod-dodging and makes you useless.
---
What is Mafia?

Mafia is a role-playing strategy game in which the good guys try to kill the bad guys. There's a bit more to it than that, but the easiest way to learn more is to go through this short tutorial here: http://www.newgrounds.com/portal/view/610085




So, wait, how do you win?

You win when your team (referred to as your faction) wins. That means that, even if you die in the game, you can still win if your team takes it! Do whatever you have to do to make sure your team wins, even if that sometimes means putting your own life on the line. There's no "I" in Town!
__________________________________________________________________________________________
Any Questions / Issues?